WhatsApp Update: WhatsApp has started rolling out the edit message feature globally. The company has shared this information through a blogpost.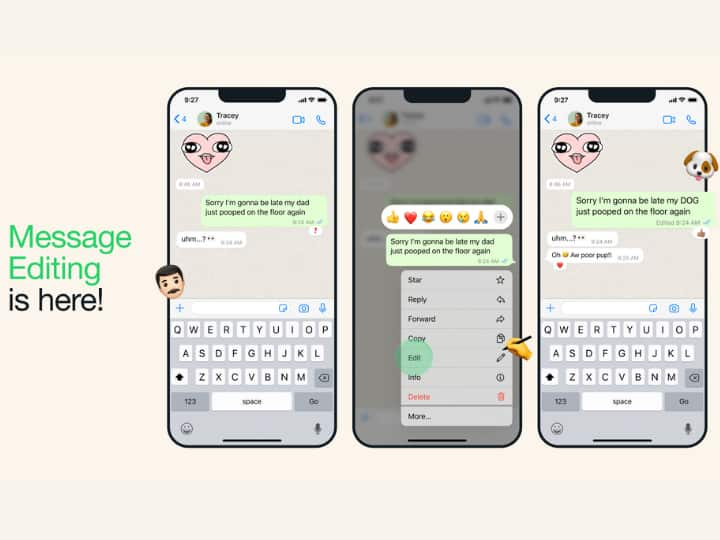 ( Image Source : Whatsapp )
WhatsApp Edit Message Feature: The feature that people were waiting for centuries has finally come on WhatsApp. The company has started rolling out the option of edit messages for the users. At present this feature has been shown to some people on the app, soon everyone will get it. If you do not get the update, then you can update the app by going to Playstore. With the help of this feature, users will be able to edit wrongly typed or incompletely sent messages. Although there is a time limit for this
Only messages up to this minute will be edited

On WhatsApp, you will be able to edit the message sent only 15 minutes ago. If you want to edit a message after this time, it will not happen. This time limit has been imposed by the company so that no one turns away from what they have said. If there is no time limit, then the user can edit any message at any time.

Like calls, messages and media, 'edited messages' will also be end-to-end encrypted. The message you edit will appear as edited to the front user, although the edit history will not be visible to him. To edit messages, you have to tap and hold them for a long time. After this you will see the option of edit message.
Recently this feature has been added to the app

WhatsApp has recently provided chat lock feature to the users. With the help of chat lock feature, users can lock their personal chats. To lock the chat, you have to go to the profile of the chat you want to lock and click on the Enable Chat Lock option. Doing so will move the chat to another folder that only you will be able to access.
READ ALSO- Elon Musk Stunning images of kissing robots wives gone viral here is what is truth